严谨 Precise, 精确 Accurate, 专业 Professional
Prof. Chengbin Ma | Graduate Students | Alumni | Journal Papers
【研究生招生】:DSC实验室2023年度拟招收博士生与硕士生各1名。要求报名同学有优化与控制、电力电子、电力系统等专业方向的突出成绩,对融合数字技术与电力电子技术,推动能源革命有强烈兴趣与抱负。各类新能源的智能化大规模控制与管理是近年来学术和产业界的重大热点,故预期主要工作在1)数字能源与绿色能源网络、2)智能多端口能源路由、3)高空间自由度无线电能传输等相关方向。
DSC实验室已有国际领先研究成果和充足科研项目支持。实验室人文环境良好、师生彼此尊重、宽松包容,且与国际一线团队交流活跃【相关报道】。研究生毕业后可在国际一流高校深造或高科技企业就业(学长毕业与就业情况,请参见Alumni部分网页)。前期科研可参见DSC实验室发表的期刊论文Journal Papers。
如有兴趣,请与马澄斌老师直接邮件联系(附上简历与手机等联系方式)。鼓励与学长主动联系交流,提前了解实验室真实科研与学习环境。实验室部分照片请参见Photos。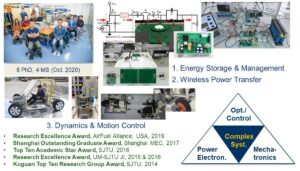 Interests:
Our focuses are design, management and control of various dynamic systems, especially energy storage systems, microgrids and smart grids, wireless power transfer systems, and electric vehicles. The research includes a strong "interdisciplinary" element, i.e., synergistic integration of physical systems, control theory and design, sensing and actuating devices, and increasingly importantly human behaviors, which makes it possible to generate more efficient, smarter, more resilient and reliable systems.
Directions: Energy storage and management, wireless power transfer, dynamics and motion control, and wide applications in electronic devices, electric vehicles, microgrids, smart grids, etc. Our current research focuses on
Distributed modeling and autonomous control of networked energy systems;

System-level analysis, design and control of high-frequency wireless power transfer systems.
New topics include, but not limited to
Charging behavior-based EV fleet charging coordination and demand-side management;

Energy efficient information systems such as data centers and 5G networks;

High-spatial-freedom wireless power transfer for ultra-low-power and high-power applications;

Spatial six-DOF magnetic field shaping for multiple-receiver wireless power transfer.